Le diagnostic archéologique : un atout pour la connaissance des occupations anciennes de la commune de Matignicourt-Goncourt et ses environs (Marne)
Thanks to the large areas surveyed, the results of the diagnostics add to our knowledge of ancient occupations in the commune of Matignicourt-Goncourt, in Marne department. They open up new research perspectives that call for data to be processed at the scale of the territory and no longer at that of the prescribed right-of-way. The diagnostic data collected, compiled in a geographic information system (GIS), is subject to spatial analysis. This allows the re-reading of older data and thus favours the understanding of settlement dynamics through the ages. In this way, it's possible to study examples of the protohistoric funerary landscape and the layout of an ancient road system.
Grace aux importantes surfaces sondées, les résultats des diagnostics alimentent les connaissances des occupations anciennes sur la commune de Matignicourt-Goncourt, dans la Marne. Ils ouvrent de nouvelles perspectives de recherche qui appellent à traiter les données à l'échelle du territoire et non plus à celle de l'emprise prescrite. Les données de diagnostics récoltées, compilées dans un système d'information géographique (SIG), font l'objet d'une analyse spatiale. Celle-ci permet la relecture des données plus anciennes et favorise ainsi la compréhension des dynamiques d'implantation à travers les âges. C'est ainsi qu'il est possible d'étudier des exemples du paysage funéraire protohistorique et l'implantation d'un système de voirie antique.
Fichier principal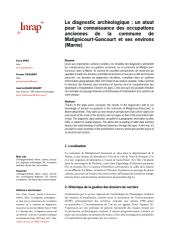 2021_Spies_et_coll_Diag_Matignicourt-Goncourt_SST2_Inrap.pdf (3.14 Mo)
Télécharger le fichier
Origin : Publication funded by an institution