Premières réflexions sur l'organisation des activités de forge en contexte rural à La Tène finale en Picardie
In a zone without reducing site, the Picardie's region seems forced to mid- or long distance provisioning means of its metal used for the smithing work. The metallurgical analysis of ironworking waste of three contemporary smithing sites revealed a different quality of the worked metal. These three sites have a relatively equivalent hierarchical status, thus the difference appears to be related rather to the type of craft activities realised in each one of them. From recent studies, we attempt to place these sites into a schematic organisation of the production during the period in this area.
Dans une zone dépourvue de sites de réduction, la Picardie semble contrainte à s'approvisionner à moyenne et longue distance en métal destiné à la forge. L'analyse des déchets sidérurgiques de trois sites de forge contemporains de La Tène Finale révèle une qualité différente du métal travaillé. Ces trois sites ont un statut hiérarchique relativement équivalent, ainsi cette différence apparaît plutôt liée au type d'activité artisanale réalisé dans chacun d'eux. À partir d'études récentes, nous tentons de replacer ces sites à l'intérieur d'une organisation schématique de la production pour la période dans cette région.
Fichier principal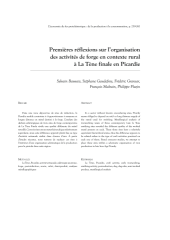 SA_14-2_Bauvais_2007_239-261.pdf (9.11 Mo)
Télécharger le fichier
Origin : Explicit agreement for this submission
Licence : CC BY NC ND - Attribution - NonCommercial - NoDerivatives