Les monnaies préaugustéennes de Bordeaux : quelle circulation monétaire dans la capitale des Bituriges Vivisques avant notre ère ?
Since the first inventory made by D. Nony in 1979, the development of archaeological excavations in Bordeaux has almost multiplied by ten the number of individual pre-Augustan coin finds. The importance of this group now allows us to see more clearly the different coin-issues represented and to define the conditions of their circulation and diffusion in the city centre of the Bituriges Vivisques. The analysis of this sample especially confirms a hypothesis that has been current for several years : that it is only well after the Caesarian conquest that the city became fully established and developed a monetarised economy.
En 1979, D. Nony publiait un premier inventaire des monnayages préaugustéens découverts à Bordeaux. Le numismate bordelais ne recensait alors que quinze exemplaires répartis sur cinq sites différents. Nombre de ces monnaies avaient été récupérées au hasard de travaux d'urbanisme, anciens pour la plupart, et peu, voire pas de contextes stratigraphiques n'étaient connus pour ces trouvailles. Cette contribution fut ensuite complétée par les inventaires des monnaies provenant des fouilles anciennes des allées de Tourny puis de celle du site de l'immeuble « La France ». Parallèlement à ces études, l'auteur rédigeait aussi trois autres articles qui s'attachaient plus particulièrement à recenser les trouvailles de monnaies ibériques et hispaniques découvertes dans la ville et la région ainsi que les monnayages républicains. Depuis cette date, le développement des opérations d'archéologie préventive à Bordeaux a fait exploser le nombre des trouvailles, élevant à ce jour l'inventaire de ces monnayages à 125 exemplaires. L'importance de cette collection permet maintenant de mieux cerner la part des différents numéraires en présence et d'aborder enfin les conditions de leur circulation et de leur diffusion dans la cité des Bituriges Vivisques.
Fichier principal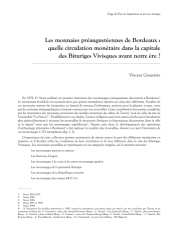 SA_30_2013_Genevieve_173-183.pdf (422.54 Ko)
Télécharger le fichier
Origin : Explicit agreement for this submission
Licence : CC BY NC ND - Attribution - NonCommercial - NoDerivatives