Caractérisation des aménagements routiers gallo-romains par le biais de la micromorphologie d'après des données d'archéologie préventive dans le nord-est de la France
The geoarchaeological and micromorphological approach of the levels of traffic is an integral part of the researches concerning the intercation human / environment, on the dynamics of grounds and the structuring of the landscape with various scales (from the city district to the territory). The results stemming from various operations of preventive archeology in the Northeast of France revealed the presence of spaces of circulation presenting diverse materialities. The geoarchaeological and micromorphological works led conducted on these operations aimed at highlighting the modes of facilities but also functioning of these levels of traffic as well as their evolution in time. So, for spaces seeming not made up, tracks of intense traffic and rolling were able to be highlighted. For the made up spaces, repairs and units devolved to the traffic able to be differentiated and refining our knowledge of the functioning of the streets and ways. The results are to be supported and to be deepened but they testify of the high potential of these studies to inform of the socio-spatial use of the spaces of circulation.
L'approche géoarchéologique et micromorphologique des niveaux de circulation fait partie intégrante des recherches portant sur l'interaction homme/milieu, sur la dynamique des sols et sur la structuration du paysage à différentes échelles (du quartier de ville au territoire). Les résultats issus de différentes opérations d'archéologie préventive dans le Nord-Est de la France ont révélé la présence de portions d'espaces de circulation présentant diverses matérialités. Les travaux géoarchéologiques et micromorphologiques menés sur ces opérations ont visé à mettre en évidence les modes d'aménagements mais aussi de fonctionnement de ces espaces de circulation ainsi que leur évolution au cours du temps. Aussi, pour les espaces apparaissant non aménagés, des traces de passage intense et de roulement ont pu être mis en évidence. Pour les espaces aménagés, des réfections et des unités dévolues à la circulation ont pu être différenciées affinant ainsi notre connaissance du fonctionnement des rues et des voies. Les résultats sont à étayer et à approfondir mais ils témoignent du fort potentiel de ces études pour renseigner de l'usage socio-spatial des espaces de circulation.
Fichier principal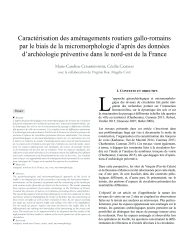 RAN-suppl49-29-Charbonnier-EP2.pdf (5.87 Mo)
Télécharger le fichier
Origin : Publisher files allowed on an open archive
Licence : CC BY NC ND - Attribution - NonCommercial - NoDerivatives