L'archéologie subaquatique au chevet de l'archéologie du bâti
Since 2012, Inrap has had an underwater archaeological research unit to meet the requirements of the Ministry of Culture. If these have mainly concerned maritime areas, in recent years, the prescriptions concerning inland waters are more and more numerous. They concern lakes, rivers and streams. In recent years, Inrap has carried out diagnostic operations in various rivers in France, and the interventions concerned the development of built structures linked to water conservation. From a poster we wish to take as an example operations realized in the Charente in 2020 (commune of Jarnac, and Saint Simon). These operations concern quays as well as a mill both dating from the medieval period. More recently, in the Sélune (Manche), built fisheries and a crossing structure have been studied. The methods of underwater investigation allow us to inform the different phases and modes of construction of these flooded structures. Some materials used, including wood, are particularly well preserved underwater. There is a perfect complementarity and continuity between surface archaeology and underwater archaeology. This last one allows to apprehend the foundations which remain, without the intervention of archaeologists specialized in hyperbaric environment, inaccessible.
Depuis 2012, l'Inrap s'est doté d'un pôle de recherche archéologique subaquatique pour répondre aux prescriptions du ministère de la Culture. Si ces dernières ont concerné essentiellement les zones maritimes, depuis quelques années, les prescriptions concernant les eaux intérieures sont de plus en plus nombreuses. Elles s'intéressent à la fois aux lacs, aux fleuves et rivières. Ainsi, l'Inrap a réalisé ses dernières années des opérations de diagnostics dans différentes rivières de l'hexagone dont les interventions concernaient des aménagements d'édifices bâtis liés à une économie de l'eau. À partir d'un poster, nous souhaitons prendre comme exemple des opérations réalisées dans la Charente en 2020 (commune de Jarnac, et de Saint Simon). Ces opérations concernent des quais ainsi qu'un moulin tous deux datés de la période médiévale. Plus récemment, dans la Sélune (Manche), des pêcheries bâties et un ouvrage de franchissement ont été étudiés. Les méthodes d'investigations subaquatiques permettent de renseigner les différents phases et modes de constructions de ces ouvrages ennoyés. Certains matériaux utilisés, dont le bois, sont particulièrement bien conservées sous l'eau. Il y a une parfaite complémentarité et continuité entre l'archéologie exercée en surface et l'archéologie subaquatique. Cette dernière permet d'appréhender les soubassements qui restent, sans l'intervention d'archéologues spécialisés en milieu hyperbare, inaccessibles.
Fichier principal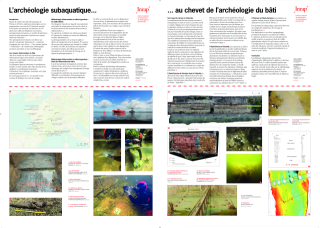 2021_POSTER_Miejac_Dayrens_Archeo_sub_au_chevet_archeo_bati_SST5_Inrap.pdf (16.02 Mo)
Télécharger le fichier
Origin : Files produced by the author(s)