L'architecture microscopique des sols construits, un lien oublié entre l'élévation et l'enfoui
Within the built volume, the ground is the support of human activities, the surface on which movements take place. Through its modes of construction and maintenance, the floor refers to social representations, techniques, material resources, and activity systems. In France, the discovery of indoor floors is not rare for the Gallo-Roman and modern periods. It is much more common for the Iron Age and the early Middle Ages. But in all cases, when it is not a question of paving or mosaics, the analysis protocols do not seem to be very operational when faced with stratifications whose thickness may be less than a millimeter and whose spatial extension is very limited. The two roundtables in Strasbourg and Auxerre on "constructed soils" (Sapin, 2012; Sapin and Schwien, 2013), have shown the urgency that there is to address more systematically this type of remains. In spite of this, the soil is often forgotten. It is the poor relation of the syntheses on architecture, construction and buildings. However, on a European scale and in near and middle eastern contexts, the geoarchaeological analysis of soils has largely shown all the potential information that it could provide on social, technological, economic and symbolic issues. In some cases, the coupling of micromorphological and archaeobotanical approaches has made it possible to reconsider interpretations and to re-evaluate the place of agricultural practices in urban contexts. For the early medieval period, an inventory carried out in northern France showed that the preservation of indoor soil sequences is not as rare as presumed, but that geoarchaeological approaches were still non-existent, contrary to some pre- and proto-historic or foreign contexts. From case studies in preventive contexts, it is therefore shown how a geoarchaeology of built soils can be applied and practiced and what the results can be. The micromorphology of archaeological soils is mainly used. It has made it possible to document the nature of the materials of the constructed soils, manufactured, resulting from choices and complex manufacturing processes. For soils still called "earthen" in a simplifying manner, it has been shown that their constitution is continuous, permanently associating manufacture, use and maintenance. Waste is trapped in these layers, compacted and fragmented in place. They then constitute the support of the surfaces of circulation and can be used as construction materials, in particular for what concerns the excrements. The maintenance of surfaces is informed by the continuous deposition of ash, and the cleaning of surfaces by erosion and micro-local dismantling of sub-horizontal organizations. These erosions may result in the displacement of aggregates containing fragments of soil sequences, or even the creation of black earth.
Au sein du volume bâti, le sol est le support des activités humaines, la surface sur laquelle ont lieu les déplacements. Par ses modes de construction et d'entretien, le sol renvoie aux représentations sociales, aux techniques, aux ressources matérielles, aux systèmes d'activités. En France, la découverte de sols d'intérieur n'est pas rare pour les périodes gallo-romaine et moderne. Elle l'est beaucoup plus pour l'Âge du Fer et le début du Moyen Âge. Mais dans tous les cas, lorsqu'il ne s'agit pas de dallages ou de mosaïques, les protocoles d'analyse apparaissent peu opérationnels face à des stratifications dont l'épaisseur peut être inférieure au millimètre et l'extension spatiale très limitée. Les deux tables rondes de Strasbourg et d'Auxerre sur les « sols construits » (Sapin, 2012 ; Sapin et Schwien, 2013), ont montré l'urgence qu'il y a à aborder plus systématiquement ce type de vestige. Malgré tout, le sol reste bien souvent oublié. Il est le parent pauvre des synthèses sur l'architecture, la construction, le bâti. Pourtant, à l'échelle européenne et dans des contextes proche et moyen orientaux, l'analyse géoarchéologique des sols a largement montré tout le potentiel d'information qu'elle pouvait apporter sur des problématiques sociales, technologiques, économiques et symboliques. Dans certains cas, le couplage des approches micromorphologique et archéobotanique a permis de reconsidérer des interprétations et de réévaluer notamment la place des pratiques agricoles dans les contextes urbains. Pour le début de la période médiévale, un inventaire réalisé dans le nord de la France a montré que la préservation des séquences de sols d'intérieur n'est pas aussi rare que présupposé, mais que les approches géoarchéologiques étaient encore inexistantes, contrairement à certains contextes pré- et proto-historiques ou étrangers. À partir d'études de cas en contexte préventif, il est donc montré comment peut s'appliquer et être pratiquée une géoarchéologie des sols construits et quels peuvent en être les résultats. La micromorphologie des sols archéologiques est principalement utilisée. Elle a permis de documenter la nature des matériaux des sols construits, manufacturés, issus de choix et de processus de fabrication complexes. Pour les sols appelés encore de manière simplificatrice « en terre », il a pu être montré que leur constitution est continue, associant en permanence fabrication, usage, entretien. Les déchets sont piégés dans ces couches, tassés et fragmentés en place. Ils constituent alors le support des surfaces de circulation et peuvent être utilisés comme matériaux de construction, notamment pour ce qui concerne les excréments. L'entretien des surfaces est renseigné par le dépôt continu de cendres, et le nettoyage des surfaces par l'érosion et le démantèlement micro-local des organisations sub-horizontales. Ces érosions peuvent entrainer le déplacement d'agrégats contenant des fragments de séquence de sol, voire la création de terres noires.
Fichier principal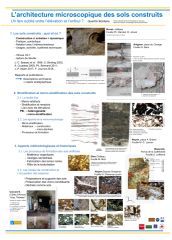 2021_POSTER_Borderie_Architecture_microscopique_sols_construits_SST5_Inrap.pdf (790.78 Ko)
Télécharger le fichier
Origin : Files produced by the author(s)