Un sauvetage urgent à Blois « Rue des Juifs »
An urgent salvage operation was decided by the regional archaeology department during work carried out on the rear façade of an old mansion located in the historic district of Blois. The work included the restoration of the entire interior and exterior of the building in order to create apartments. At the time of our intervention, the interior works as well as the treatment of the street façade were already completed. Only the rear façade was still accessible. The prescription also provided for work on the two levels of cellars present under the building. The operation was calibrated by the SRA with two weeks of fieldwork and one week of reporting. The cleaning of the clearing carried out by the masons, the use of the architect's surveys on which we were able to transfer the stratigraphic limits and the use of photogrammetry for the more precise surveys and the surveys of the cellar enabled us to apprehend a very stratified site. Given the extremely short time frame, the analysis of the building focused on the earliest periods for which we were able to observe the various transformations. Unfortunately, this study did not allow the realization of a complete phasing and shows the limits of the exercise.
Une opération de sauvetage urgent a été décidée par le service régional de l'archéologie lors de travaux réalisés sur la façade arrière d'un ancien hôtel particulier situé dans le quartier historique de Blois. Les travaux prévoyaient la restauration de l'intégralité du bâtiment intérieur et extérieur en vue de l'aménagement d'appartements. Lors de notre intervention, les travaux intérieurs ainsi que le traitement de la façade sur rue étaient déjà terminés. Seule la façade arrière était encore accessible. La prescription prévoyait également un travail sur les deux niveaux de caves présents sous le bâtiment. L'opération était calibrée par le SRA avec deux semaines de terrain et une semaine de rapport. Le nettoyage du décroutage réalisé par les maçons, l'utilisation des relevés de l'architecte sur lesquels nous avons pu reporter les limites stratigraphiques et l'utilisation de la photogrammétrie pour les relevés plus précis et les relevés de la cave nous ont permis d'appréhender un site très stratifié. Etant donné les délais extrêmement courts, l'analyse du bâtiment s'est concentrée sur les périodes les plus anciennes pour lesquelles nous avons pu observer les différentes transformations. Cette étude n'a malheureusement pas permis la réalisation d'une mise en phase complète et montre les limites de l'exercice.
Fichier principal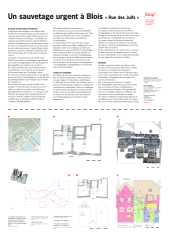 S01_10_POSTER_Lallet_Un_sauvetage_urgent_Blois_Rue_des_Juifs.pdf (17.54 Mo)
Télécharger le fichier
Origin : Files produced by the author(s)