Bioarchéologie : synthèse et perspectives
31 papers and 11 posters presented during the two days of the seminar « Bioarchaeology: Methodological Minimums, Common Frame of Reference, and New Approaches » clarified the contributions of different disciplines to the analysis and characterization of archaeological sites, while raising the central question of the place currently reserved for bioarchaeology. It is under the sign of richness, variety and complementarity that this subject of the inscription of bioarchaeology in the archaeological approach was debated, through passionate and almost always heated exchanges. Logically enough, the discussions focused mainly on the problems linked to the field of preventive archaeology, without totally overshadowing that of programmed archaeology. The latter, characterized by the targeting of non-threatened sites selected for their high scientific stakes, by a strong operational segmentation and by often modest budgetary allocations, would have justified a more thorough evaluation of the place it devotes to bioarchaeology. If, therefore, it is regrettable that the format of this seminar did not allow for a more complete panorama, many of the observations made for preventive archaeology seem to be generalizable.
Les 31 communications et 11 posters proposés durant les deux journées du séminaire Bioarchéologie : minimums méthodologiques, référentiels communs et nouvelles approches ont permis de préciser les apports des différentes disciplines à l'analyse et à la caractérisation des sites archéologiques, tout en soulevant la question centrale de la place actuellement réservée à la bioarchéologie. C'est sous le signe de la richesse, de la variété et de la complémentarité que ce sujet de l'inscription de la bioarchéologie dans la démarche archéologique a été débattu, au travers d'échanges passionnants et presque toujours passionnés. Assez logiquement, les discussions ont principalement porté sur les problématiques liées au domaine de l'archéologie préventive, sans que soit totalement occulté celui de l'archéologie programmée. Cette dernière, caractérisée par le ciblage de sites non menacés retenus pour leurs forts enjeux scientifiques, par une segmentation opérationnelle forte et des dotations budgétaires souvent modestes, aurait justifié une évaluation plus poussée de la place qu'elle consacre à la bioarchéologie. Si, par conséquent, on peut regretter que le format de ce séminaire n'ait pas permis de dresser un panorama plus complet, de nombreux constats posés pour l'archéologie préventive semblent toutefois pouvoir être généralisés.
Fichier principal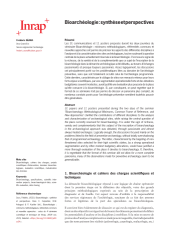 2021_Seara_Bioarcheologie_synthese_et_perspectives_SST4_Inrap.pdf (77.72 Ko)
Télécharger le fichier
Origin : Files produced by the author(s)