Potentiel bioarchéologique des micro-fossiles non-polliniques en archéologie préventive
This article aims to evaluate the bioarchaeological potential of non-pollen palynomorphs (NPP) through two case studies from preventive archaeology. These NPP correspond to different dissemination or resting materials produced by organisms from the five kingdoms of life. Combined with the analysis of pollen grains, the first results obtained at Villeneuve-sur-Lot and Lavau sites demonstrate the high value of NPP as they provide significant palaeoenvironmental, palaeoecological, geoarchaeological and taphonomic informations. These two examples therefore argue in favour of a systematic analysis of NPP also in archaeological contexts and not only in natural sedimentary sequences.
Au travers de deux cas d'étude issus de l'archéologie préventive, cet article a pour objectif d'évaluer le potentiel bioarchéologique des micro-fossiles non-polliniques (MNP). Ils correspondent à des formes de résistance et de dissémination issus des cinq règnes du vivant. Associés à l'analyse des grains de pollen et des spores de végétaux, les premiers résultats obtenus sur les sites de Villeneuve-sur-Lot et de Lavau démontrent leur intérêt tant les informations qu'ils peuvent apporter sont nombreuses sur les plans paléoenvironnemental, paléoécologique, géoarchéologique ou taphonomique. Ces deux exemples arguent donc en faveur d'une analyse systématique de ces MNP en contexte archéologique comme c'est le cas pour les recherches palynologiques menées en contextes naturels.
Fichier principal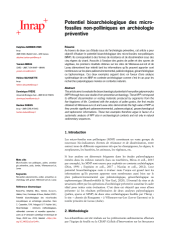 2021_Barbier-Pain_Miras_et_coll_Potentiel_bioarchologique_MNP_SST4_Inrap.pdf (5.94 Mo)
Télécharger le fichier
Origin : Publication funded by an institution