Détermination de la fonction d'une structure funéraire de crémation : l'exemple d'une structure de l'ensemble funéraire du Mas Carbonnel à Nîmes, Gard
In 1992, the excavation of the funerary complex of Mas Carbonnel in Nîmes delivered several Antiquity burial structures (burials and cremations). One of them, a cremation deposit from the High Roman Empire consists of a masonry construction set up in a rectangular pit. It delivered 733,6 g of burned bones and has provided goods, consisting of about twenty ceramic vases, 59 perfume vases, and small furniture items (2 mirrors, elements from a small chest, needles and 9 coins). In 2010, a detailed study, based on the analysis of the spatial organization of the goods through a multidisciplinary approach (study of bone remains, ceramics, metal, glass artifacts, marquetry), was led to determine this deposit as a pit-pyre and retrieve the different steps and gestures of the funerary ritual.
En 1992, la fouille du complexe funéraire du Mas Carbonnel à Nîmes a livré plusieurs structures funéraires antiques (inhumations et crémations). L'une d'elles, une structure de crémation datée de la période du Haut Empire consiste en une construction maçonnée installée dans une fosse rectangulaire. Elle a livré 733,6 g d'os brûlés et a fourni un important lot de mobiliers, constitué d'une vingtaine de vases en céramique, 59 vases à parfum et de petits objets (2 miroirs, éléments d'un petit coffre, aiguilles et 9 pièces de monnaie). En 2010, une étude détaillée, basée sur l'analyse de l'organisation spatiale des dépôts à travers une approche pluridisciplinaire (étude des restes osseux, céramiques, métaux, objets en verre, tabletterie), a été menée afin d'identifier la fonction de cette structure et de déterminer les différentes étapes et gestes du rituel funéraire.
Fichier principal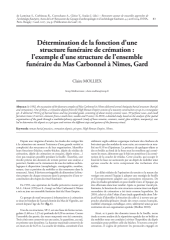 Molliex_GAAF 6_2017 (1).pdf (648.47 Ko)
Télécharger le fichier
Origin : Explicit agreement for this submission