Sous les pavés la Loire ! Archéologie préventive et occupations précoces de la plaine alluviale à Tours (37)
Alluvial plain of the Loire, in the area around the city of Tours (37), has a complex structure. The area is subject to the cross-influences of the Loire and the Cher; it has also long been subject to the dynamics of watercourses that have now disappeared (ruau Sainte-Anne) or have been heavily anthropised over the last century (Dolve, ruau de l'Archevêque). Obtaining absolute dates on alluvial deposits with little or no anthropisation, in levels often located at great depths, highlights the environmental variations to which the pioneer settlements were subjected. For historical periods, the discovery of very recent incisions, as well as the discovery of significant and rapid variations in the dynamics of the Loire system, are part of the understanding of the modalities of urban expansion. Majority of the data comes from rescue archeology, carried out over small areas and without any archaeological discoveries of any significance at first sight. The strong involvement of Inrap collective research has enabled the development of geomorphological themes and their integration into the work of archaeologists. Now, any diagnostic organised in Tours has the status of an operation with high scientific potential, making the notion of a « negative » diagnostic obsolete.
La plaine alluviale de la Loire, dans le secteur de la ville de Tours (37), présente une structuration complexe. La zone subit les influences croisées de la Loire et du Cher ; elle a également longtemps été soumise à la dynamique de cours d'eau désormais disparus (ruau Sainte-Anne) ou très fortement anthropisés au cours du dernier siècle (Dolve, ruau de l'Archevêque). L'obtention des datations absolues sur des dépôts alluviaux peu ou pas anthropisés, dans des niveaux souvent situés à des profondeurs importantes, met en lumière les variations environnementales auxquelles les peuplements pionniers sont soumis. Pour les périodes historiques, la découverte d'incisions très récentes, ainsi que la mise en évidence de variations importantes et rapides de la dynamique du système ligérien s'intègrent à la compréhension des modalités de l'expansion urbaine. La très grande majorité des données provient de diagnostics préventifs, menés sur des surfaces restreinte et sans découverte archéologique significative au premier abord. La forte implication du collectif de recherches de l'Inrap a permis le développement des thématiques géomorphologiques et leur intégration aux travaux des archéologues. Désormais, tout diagnostic organisé à Tours revêt un statut d'opération à fort potentiel scientifique, rendant caduque la notion de diagnostic « négatif ».
Fichier principal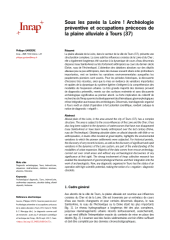 2021_Gardere_Sous_les_paves_la_Loire_SST2_Inrap.pdf (14.04 Mo)
Télécharger le fichier
Origin : Publication funded by an institution