Les Marmottes de la grotte Colomb (Vercors -France)
Marmots of the Colomb Cave (Vercors - France).- Specialized hunting of the Alpine Marmot (Marmota marmota L.) was first described by Hippolyte Müller, at the beginning of the 20th century. This activity has since been dealt with several times in the literature. One of the most important sites that has contributed to the enrichment of the subject of hunting Marmots is the Colomb Cave, in the Vercors. This site has provided more than 4000 well preserved remains of this rodent which were studied for a master's degree in 1998. Examination of this large assemblage has made it possible to verify some of the hypotheses and concepts of Müller concerning the temporary occupation of the site and the exploitation of the fur and meat of these small animals. It has also provided evidence for new aspects such as seasonal hunting (often focussing on adult individuals) and the differential consumption differed of the more fleshy parts of the animal.
Une chasse spécialisée de la Marmotte des Alpes (Marmota marmota L.) a été pour la première fois mise en évidence par Hippolyte Müller, au début du XXe siècle. Cette activité a été plusieurs fois abordée depuis, dans la littérature. Un des plus importants sites ayant contribué à alimenter cette thématique des chasseurs de Marmottes est la grotte Colomb, dans le massif du Vercors. Celle-ci a fourni plus de 4000 restes extrêmement bien conservés de ce rongeur qui ont été étudiés dans le cadre d'une maîtrise, en 1998. L'examen de cet abondant matériel a permis de vérifier certains des constats et des hypothèses de Müller concernant l'occupation temporaire du site et l'exploitation des fourrures et de la viande de ces petits animaux. Il a également mis en évidence de nouveaux aspects comme la pratique d'une chasse à la belle saison (plutôt tournée sur les individus adultes) et une consommation différée de la viande des parties les plus charnues de l'animal.
Fichier principal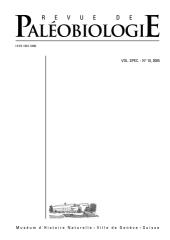 2005_Tome_Marmottes_grotte_Colomb_Paleobiologie.pdf (972.06 Ko)
Télécharger le fichier
Origin : Explicit agreement for this submission