Diagnostics et approche de l'occupation du territoire et des types d'habitat à la Protohistoire ancienne : l'exemple du 1er âge du Fer dans le Nord et le Pas-de-Calais via le PCR HABATA
Archaeological diagnostics is a recurring theme of colloquium and discussion. Although methodological aspects have long been at the heart of debates, it was appropriate to treat the subject in a different way. The Caen seminar highlighted the ideas acquired and the problems encountered today by all those involved in these archaeological operations. This article attempts to show how the data resulting from diagnostics fit into a collective research programme (PCR). In order to achieve a certain exhaustiveness, the chronological period and geographical area of this programme have been reduced here. After a summary presentation of it and of the defined corpus of studies, the importance of the data resulting from the operations of diagnostic is highlighted through various themes: architecture of buildings, organization of settlements, material culture and contribution of diagnostic data to its knowledge.
Le diagnostic archéologique est un thème de colloque et de discussion récurrent. Si les aspects méthodologiques ont longtemps été au cœur des débats, il était opportun de traiter le sujet de manière différente. Le séminaire de Caen a permis de mettre en lumière les idées acquises et les problèmes rencontrés aujourd'hui par tous les acteurs de ces opérations archéologiques. Cet article tente de montrer comment les données issues de diagnostics s'intègrent dans un programme collectif de recherche (PCR). Afin de parvenir à une certaine exhaustivité, la période chronologique et l'aire géographique de ce programme ont été ici réduites. Après une présentation synthétique de ce dernier et du corpus d'étude défini, l'importance des données issues des opérations de diagnostic est soulignée à travers diverses thématiques : l'architecture des bâtiments, l'organisation des occupations, la culture matérielle et l'apport des données de diagnostics à sa connaissance.
Fichier principal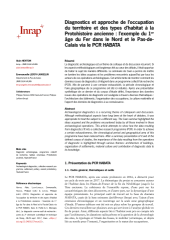 2021_Henton_Leroy_Langelin_PCR_HABATA_SST2_Inrap.pdf (4.36 Mo)
Télécharger le fichier
Origin : Publication funded by an institution