Apport et place de la xylologie en archéologie préventive
Archaeo-xylology is the study of archaeological woods, mainly found in wetlands. These waterlogged woods unearthed during archaeological excavations often retain their original shape and appearance. As a natural material used by men of all eras, it gives a glimpse of past environments through its ecological characteristics (growth rings, plant morphology) and documents certain anthropic practices (harvesting, shaping, use). However, remains are rare and only a tiny part of them have come down to us because of the special conditions necessary for their conservation and the chance of their discovery.
L'archéo-xylologie est l'étude des bois archéologiques principalement découverts en milieu humide. Ces bois gorgé d'eau, mis au jour lors de fouilles archéologiques, conservent souvent leur forme et leur aspect d'origine. Matériau naturel utilisé par les hommes de toute époque, il permet d'entrevoir les environnements passés à travers ses caractéristiques écologiques (cernes de croissance, morphologie de la plante) et documente certaines pratiques anthropiques (récolte, façonnage, utilisation). Les vestiges se font pourtant rares et seule une infime partie est parvenue jusqu'à nous du fait, d'une part, des conditions particulières nécessaires à leur conservation et, d'autre part, du hasard de leur découverte.
Fichier principal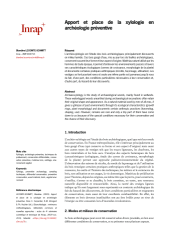 2020_Lecomte-Schmitt_Xylologie_SST4_Inrap.pdf (6.87 Mo)
Télécharger le fichier
Origin : Publication funded by an institution