Reconstructing the way of life in the Neolithic and Early Bronze age.
Reconstruction des modes de vie au Néolithique et au Bronze ancien
The area between Rhine and Seine has been investigated with the help of soils scientists since the fifties, with a special focus on the Neolithic and Bronze age periods. The authors have been active here continuously on survey archaeological sites since the nineties and propose a state of advancement on a number of issues that have been studied since then on the field and by soil analyses and/or thin sections: ditch fillings, palisades, pits of different sizes including Schlitzgruben, fireplaces, well dated surface horizons, inherited or transformed by the humans, including Tardiglacial and Early Holocene natural horizons in well-drained conditions, occupation levels and plough horizons, and finally buildings and enclosures focusing on their phosphate analyses. In the second part of the article, some new questions on the interpretations are raised by the comparison of former and these new multi-proxy results.
La zone entre Rhin et Seine a été étudiée avec l'aide de pédologues depuis les années 50, avec un focus particulier sur les périodes néolithiques et de l'âge du Bronze. Depuis les années 90, les auteurs ont été actifs en continu sur les sites d'archéologie préventive et proposent un état d'avancement sur une série de sujets étudiés depuis sur le terrain et par des analyses de laboratoire et/ou des lames minces. Il s'agit de remplissages de fossés et de palissades, de fosses de différentes tailles y compris les Schlitzgruben, les horizons de surface bien datés hérités et transformés par les humains, comprenant horizons naturels tardiglaciaires et début holocène des milieux bien drainés, surfaces d'activités et de mise en culture, et pour finir les enclos, avec un focus sur les cartographies de phosphate.
Fichier principal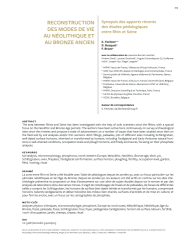 Fechner et al GAMB 2019 (1).pdf (6.88 Mo)
Télécharger le fichier
Origin : Publisher files allowed on an open archive