The exploitation of plant and animal resources in the Palaeolithic: specific approaches for specific questions
L'exploitation des ressources végétales et animales au Paléolithique : quels outils méthodologiques pour quelles questions ?
De nombreux chercheurs, archéologues, anthropologues ou philosophes des sciences ont largement disserté, d'un point de vue épistémologique ou théorique, sur le principe d'actualisme et son application dans le domaine de l'archéologie. « L'archéologue qui travaille en vase clos (…) est incapable de proposer sur la seule base des vestiges archéologiques, des interprétations fonctionnelles sur la signification économique, sociale, politique ou idéologique de l'objet dans la société ainsi que des explications d'ordre historique » (A. Gallay, "Pour une ethnoarchéologie théorique", 2011, p. 80). Toute interprétation archéologique requiert de fait un raisonnement par analogie qui fait nécessairement appel à des données extérieures archéologiques, anthropologiques voire expérimentales. Cette approche actualiste peut s'insérer dans différents champs disciplinaires. Le premier d'entre eux, l'ethnologie, revêt des conceptions et des ambitions bien distinctes selon les chercheurs qui la pratiquent.
Fichier principal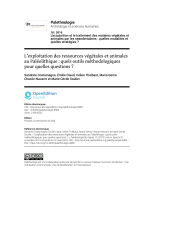 palethnologie-3866.pdf (26.33 Mo)
Télécharger le fichier
Origin : Publication funded by an institution