Perturbation assessment in archaeological sites as part of the taphonomic study: a review of methods used to document the impact of natural processes on site formation and archaeological interpretations
Mise en évidence des perturbations dans les sites archéologiques : revue des méthodes utilisées pour documenter l'impact des processus naturels sur la formation des sites et leur interprétation.
In the context of archaeological taphonomy, perturbation assessment aims at characterizing the processes that have affected a set of archaeological remains (lithic pieces, faunal remains, plant material) after their abandonment, and at analysing the consequences of these processes on archaeological interpretations. The processes range from sedimentary to bio-pedological factors and weathering. The main questions that perturbation assessment attempts to answer concern (1) the preservation of the original (anthropogenic) spatial organisation of the remains, (2) the homo-geneity and integrity of the assemblage, and (3) the state of preservation of the individual remains. This paper gives an overview of the main processes involved in site formation with an emphasis on the European Palaeolithic, and the most frequent issues archaeologists have to face. Available analytical tools such as fabrics, grain size composition, and refits of lithic and bone material are detailed together with other possible criteria. Overall, we argue that perturbation assessment is a mandatory stage in the archaeological study of any site and that substantial progress in the understanding of site formation processes will arise from further experimental work in active contexts. Archaeological taphonomy, perturbation assessment, site formation processes, Palaeolithic.
Dans le cadre de l'étude taphonomique des sites archéologiques, l'analyse des perturbations a pour but de déterminer les processus naturels qui ont affecté les ensembles de vestiges (pièces lithiques, faune, matériel d'origine végétale) après leur abandon et d'analyser les conséquences de ces processus sur l'interprétation archéologique. Ils englobent des facteurs sédimentaires, des facteurs bio-pédologiques et l'altération. Les principales questions auxquelles l'analyse tente de répondre concernent (1) la préservation de l'organisation spatiale originelle (anthropique) des vestiges, (2) l'homogénéité et l'intégrité des ensembles de vestiges et (3) l'état de préservation des pièces individuelles. Cet article présente une revue des facteurs impliqués dans la perturbation des sites, avec un focus sur le Paléolithique européen, et les problèmes les plus fréquemment rencontrés. Les outils analytiques disponibles, tels que les fabriques, la composition granulométrique des séries lithiques et les remontages/appariement des pièces lithiques ou osseuses sont détaillés. D'autres critères sont également évoqués. De manière générale, nous soulignons que l'analyse des perturbations est une étape nécessaire dans l'étude archéologique d'un site et que des progrès substantiels dans la compréhension des processus de formation des sites sont à attendre de nouveaux travaux expérimentaux dans des contextes naturels.
Fichier principal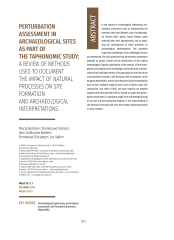 2020 PALEO Taphonomy_def.pdf (9.88 Mo)
Télécharger le fichier
Origin : Explicit agreement for this submission