Musikalische Renaissance. Eine auf einer Schieferplatte gravierte Partitur aus dem Dominikanerkloster von Rennes
Musical revival. A partition engraved on a shale plate at the Jacobins convent in Rennes Musikalische Renaissance.
Renaissance musicale. Une partition gravée sur plaque de schiste au couvent des Jacobins de Rennes
Anläßlich der Ausgrabung des Dominikanerklosters von Rennes 2011-13 wurden mehrere gravierte Schieferplatten geborgen. Sie trugen Namen, Zeichnungen oder Karikaturen, aber auch eine Partitur – einen ungewöhnlichen Fund, der die Aufmerksamkeit der Ausgräber auf sich zog. Sie wandten sich zu einer auf frühe geistliche Gesänge spezialisierte Sopranistin, die diese seltene Quelle aus dem 15. Jh. vertieft untersuchen sollte. Dank ihrer Mitarbeit konne dieses kleine Musikstück entziffert und interpretiert werden, was die zahlreiche Ergebnisse der Ausgrabung um eine ungewöhnliche Dimension bereichert (http://www.irisa.fr/immersia/tablette-jacobins/).
Several engraved schist plates were unearthed during the excavation of the Jacobins convent in Rennes, which took place between 2011 and 2013. Among the names, drawings or caricatures, a musical stave caught the attention of archaeologists, not used to this kind of discovery. A soprano specialized in ancient religious songs was therefore asked to deepen the analysis of this rare 15th century testimony. This collaboration made it possible to decipher the small artwork and to propose an interpretation that enriches with an unusual dimension the numerous results of the excavation (http://www.irisa.fr/immersia/tablette-jacobins/).
Plusieurs plaques de schiste gravées ont été mises au jour lors de la fouille du couvent des Jacobins de Rennes qui s'est déroulée entre 2011 et 2013. Parmi les noms, les dessins ou les caricatures, une portée musicale a retenu l'attention des archéologues, peu accoutumés à ce genre de découverte. Une soprano spécialisée en chants religieux anciens a donc été sollicitée afin d'approfondir l'analyse de ce témoignage rare daté du XVe siècle. Cette collaboration a permis de décrypter la petite œuvre et d'en proposer une interprétation qui enrichit d'une dimension inhabituelle les nombreux résultats de la fouille (http://www.irisa.fr/immersia/tablette-jacobins/).
Fichier principal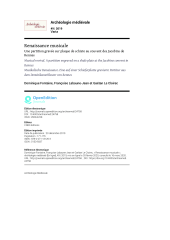 archeomed-24758.pdf (1.39 Mo)
Télécharger le fichier
Origin : Publisher files allowed on an open archive