Inrap and geophysics: towards a sustainable approach
The policy and practice of preventive archaeology is well established in France. By far the main methodology applied is trial trenching surveying, both for prospection and evaluation. Within this preventive archaeology process in France most of the fieldwork is done by Inrap, the National Institute for Preventive Archaeology. The integration of geophysical prospection within this preventive process remains rather limited up to date, despite a fairly large number of experiments with these techniques. However, within the last few years Inrap is systematically applying geophysical surveys, although always with specific goals and research frameworks. The main goals within these survey projects are: the detection of archaeological features; palaeolandscape reconstructions; and the mapping and characterization of archaeological layers during excavations. A durable approach, regarding cost-efficiency and scientific robustness of the applied methods, is of high importance within this approach. To allow this, Inrap recently established a team for geophysical prospection.
Samenvatting Het beleid rond preventieve archeologie in Frankrijk is reeds vele jaren goed ingeburgerd. Als veldpraktijk wordt hierbij, net als in Vlaanderen, voornamelijk ingezet op proefsleuven om projectzones archeologisch te evalueren. Binnen de preventieve archeologie is het nationaal instituut voor erfgoedonderzoek (INRAP) met 2000 archeologische studies per jaar (ca. 1800 evaluaties en 200 opgravingen) de absolute koploper. De integratie van geofysische technieken bij zulk evaluatieonderzoek blijft, ondanks een lange traditie van (experimentele) toepassingen in de Franse archeologie, beperkt. Sinds kort brengt een meer systematische toepassing van geofysische methodes bij INRAP daarin verandering. Door vergelijkingen met proefsleuvenonderzoek, en het gebruik van geofysische prospectie voor en tijdens opgravingscampagnes, streeft INRAP naar een meer duurzame en beredeneerde implementatie van deze technieken. De voornaamste toepassingen zijn te groeperen in: de detectie van archeologische sporen; de prospectie en reconstructie van begraven landschappen; en de karakterisering van archeologische lagen in opgegraven oppervlakken. Hierbij staat telkens de combinatie van een kostenefficiënte en wetenschappelijk meer robuuste archeologische methodologie voorop. Om dit mogelijk te maken, werd recent bij INRAP een geofysisch team opgericht dat, met het oog op verdere uitbreiding, deze evolutie in goede banen leidt.
Fichier principal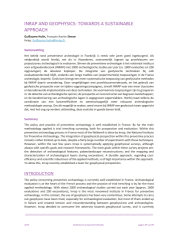 INRAP_AND_GEOPHYSICS_TOWARDS_A_SUSTAINAB.pdf (269.82 Ko)
Télécharger le fichier
Origin : Files produced by the author(s)