Stone mortars : a badly known aspect of the roman material culture
As part of a research conducted on medieval stone mortars, several reports and studies pointed out stone mortar finds from the late Iron Age onwards in Roman Gaul : research on this type of ustensil is indeed dominated by the ceramic version. The stone mortars did not received a detailed account, despite a study by Dunning (1968) on the results of excavations in the fort of Richborough (Kent, England). And in despite of the research on mortars in Purbeck Marble, Cool (2005) stated the scarcity of available synthetic data on the numerous English discoveries. The English call finds echo in more general studies in roman Aquitaine (France) (Bertrand & Tendron, 2012) and in Italy (Caffini 2010). These studies can be completed by Iron Age finds, not only on urbanized sites, like Lattes (Feugère, 1992) and Bibracte (Boyer & Farget, 2008), but also in rural settlements (Jaccottey et al, 2011). This study reveals, among others, a production of mortars in basalt at the end of the Iron Age, with a distribution up to Charente Maritime, where it is present next to mortars in different stone types, including marble (Bertrand & Tendron, 2012). In accordance with the recommendations of Pliny the Elder in his "Natural History", the discoveries of Roman Aquitaine include a large number of examples in this material. Two archaeological contexts now attest medical preparations: one in an Aquitaine burial of an ophthalmologist, the other in the finds of the fired domus of a surgeon moved to Rimini (Italy), where nine mortars in marble and other stones have been found (Ortalli 2014,). For England, the cited survey point out a particularly dense distribution of stone mortars in the southwest, both from extraction and consumer sites. Their manufacturing does not take model on imported marble mortars only, that are rather rare and restricted to major city sites. In France, studies on millstone finds in Champagne-Ardenne also reveal the first examples of a parallel production of mortars in sandstone from the north-east of Paris in the 3rd century (Lepareux-Couturier, 2013) or in vaugnérite, a magmatic rock from Burgundy (for a find in the south of Champagne; Jaccottey, in progress). In Belgium, the above Aquitaine study has led to the re-discovery of finds in collections of archaeological sites like Taviers, Liberchies and Namur (Vilvorder 2013). In the Belgian coastal fort of Oudenburg a late roman find has been inventoried (Vanhoutte et al, 2009). Furthermore, the discoveries in the portus of Dorestad (Netherlands) documents the reuse of roman imported building stones (Kars & Broekman 1981).
Dans le cadre d'une recherche menée sur des mortiers en pierre du bas Moyen Âge, plusieurs signalements ont révélé plusieurs exemplaires en Gaule romaine dès l'âge du Fer et au cours de la période gallo-romaine. En effet, ces derniers n'ont pas bénéficié d'une prise en compte approfondie, malgré une étude menée par G.C. Dunning dès les années soixante sur le fort anglais de Richborough (Angleterre). Et malgré les recherches menées dans ce pays sur les productions sur le Purbeck Marble, H.E.M. Cool tente encore en 2005, dans un preliminary survey principalement bibliographique, de remédier à la rareté des données synthétiques disponibles sur les nombreuses découvertes anglaises. Cet appel anglais trouve désormais un écho dans des études plus générales menées sur l'Aquitaine romaine (France) (Bertrand & Tendron 2012) et en Italie (Caffini 2010). Dans l'état, s'y ajoutent des découvertes françaises attribuables à l'âge du Fer, non seulement sur des sites urbanisés comme Lattes et Bibracte, mais également sur des sites ruraux, y compris des établissements agricoles. L'étude de ces sites gaulois révèle, entre autres, une production en basalte dès la fin de l'âge du Fer, avec une diffusion jusqu'en Charente maritime, où elle est présente à côté de mortiers en différents types de pierre, y compris en marbre. En effet, conformément aux préconisations de Pline l'ancien dans son « Histoire Naturelle », les découvertes de l'Aquitaine romaine comprennent un nombre important d'exemplaires dans ce matériau. Deux contextes archéologiques attestent désormais des préparations médicales, l'une dans une sépulture d'un médecin ophtalmologiste en Aquitaine, l'autre dans la demeure d'un chirurgien installé en Italie, où ils sont associés à des exemplaires dans d'autres types de pierre. Pour l'Angleterre, le bilan cité fait le constat d'une répartition particulièrement dense de mortiers en pierre dans le sud-ouest, tant sur des lieux d'extraction que des sites de consommation. Leur fabrication ne prend pas modèle exclusivement sur les exemplaires importés en marbre, rares et plutôt réservés aux sites urbains majeurs. En France, les études menées sur les meules en Île-de-France et en Champagne-Ardenne (S. Lepareux-Couturier) révèlent par ailleurs les premiers exemples d'une production parallèle de mortiers dans un grès du nord-est de Paris au 3e siècle. En Belgique, outre le fragment particulièrement tardif du fort côtier d'Oudenburg (Vanhoutte et alii, 2009), signalons la re-découverte dans les réserves archéologiques d'exemplaires mis au jour sur les sites de Taviers, de Liberchies et de Namur (Vilvorder 2013) Ces données révèlent le potentiel d'étude de cette partie méconnue de la culture matérielle gallo-romaine, dont la prise en compte des questions pétrographiques est susceptible d'apporter des informations de premier ordre sur un plan socio-économique, voire quant à l'adoption et à la diffusion de modes de préparation réputés romains.
Fichier principal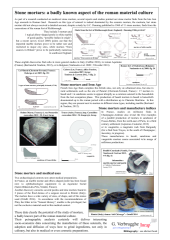 Tongeren-poster_mortars.pdf (2.96 Mo)
Télécharger le fichier
Origin : Files produced by the author(s)