Exclus du droit à la sépulture : image d'un groupe social au Moyen Âge (Poitiers; dernier quart VIIIe siècle)
In the eastern area of Poitiers, occupied by crafted installations by the eighth and ninth centuries, eight young individuals –preadolescents, adolescents and young adults– have been discovered in a silo, having served as a garbage dump. The first six bodies have been brutally and successively dumped into the emptied pit. The seventh individual has been set down in a sitting position. The bodies showed signs of malnutrition, growth delay and markers of occupational stress. Five individuals also showed after-effects of traumas. The reconstitution of life conditions attests the exploitation of a servile young workforce who has been deprived of burial.
Dans un quartier oriental de Poitiers, occupé par des installations artisanales aux VIIIe-IXe siècle, huit jeunes gens – préadolescents de 10-11 ans, adolescents de 16-20 ans et jeunes adultes – ont été découverts dans un silo ayant servi de dépotoir. Six corps ont été jetés successivement et brutalement dans la fosse vidée. Le septième sujet a été déposé en position assise. Les corps de ces jeunes présentaient des signes de malnutrition, de retard de croissance et d'hypersollicitation physique. De plus, cinq sujets portaient des séquelles de traumatismes violents. La reconstitution des conditions de vie témoigne de l'exploitation d'une jeune main-d'œuvre servile que l'on a privée de sépulture.
Fichier principal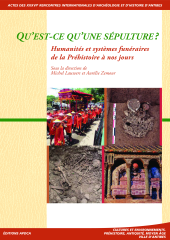 Esclaves_Poitiers_GALLIEN et al.pdf (5.53 Mo)
Télécharger le fichier
Origin : Explicit agreement for this submission